Think Big for Kids Awards $50K in Scholarships for 2022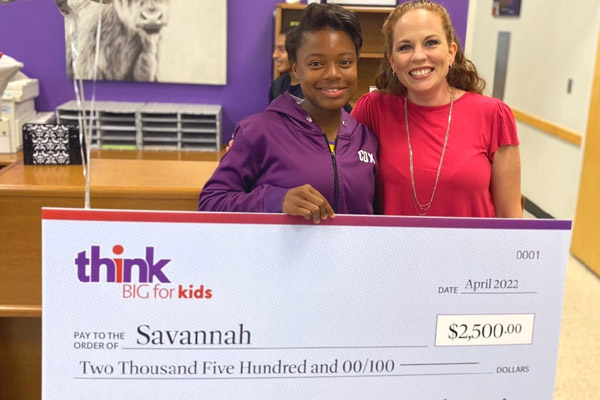 Think Big for Kids is proud to announce that it has awarded $50K in scholarships to 12 recipients for the 2021-22 academic year. As part of its ongoing mission to break the cycle of poverty by preparing kids to excel in today's workforce, the organization has given out multiple scholarships over the years to graduating high school students who demonstrate a unique combination of integrity, determination, and passion in the pursuit of their education and post-graduation career goals.
Eleven students from across the Tampa Bay area received the Think Big Expect More Scholarship and one received the SME Technical Trades Scholarship which provides financial support of up to $5,000 to students accepted into a university, community college, or trade school program. The scholarship offers recipients an opportunity to obtain the necessary education to pursue their chosen career.
Think Big also partnered with the SME Foundation to award the 2022 SME Technical Trades Scholarship, which will provide $5,000 toward technical training at one of Tampa Bay's leading community or trade schools. This year's recipient plans to pursue a career in welding.
"The SME Foundation has a focus on supporting students interested in a career in the trades industry," says Christopher J. Moyer, Sr., President & CEO of SME Solutions Group and founder of the SME Foundation. "We are honored and happy to play a role in helping a deserving young man fulfill his dreams."
Scholarship recipients represented 10 Tampa Bay area schools, including Alonso High School, Armwood High School, Lennard High School, Leto High School, Sickles High School, Steinbrenner High School, and Tampa Bay Technical High School in Hillsborough County, and Dixie Hollins High School, East Bay High School, and St. Petersburg Collegiate High School in Pinellas County.  Our students are interested in pursuing various career fields, including healthcare, business marketing, physical therapy, performing arts, welding, and more.
In addition to the Think Big Expect More and SME Technical Trades Scholarships, the Think Big for Kids Scholarship Program will be awarding even more scholarships throughout 2022:
Think Big Perseverance Scholarship: Provides support for students accepted into a 2-year community college program and intend to transfer to a university to complete a bachelor's degree.
JDP Electric Apprenticeship & Job Opportunity: Combines a full-time job offer with a 4-year trade school program and on the job training to help students become licensed Journeyman electricians.
Think Big Law Enforcement Scholarship: Established in honor of Undersheriff Paul Alley, Sr., this scholarship provides financial assistance to students pursuing a career in law enforcement.
Think Business Scholarship: Provides support for students planning to pursue a career in business or law.
"Awarding scholarships is a core element of Think Big's unique 'Three Pillars' program that supports underprivileged students from middle school to high school graduation and beyond," said Amy Alley, executive director of Think Big for Kids. "These opportunities are made available thanks to the generosity of our partner companies and individual donors who care deeply about our mission. Each scholarship recipient has a mentor with Think Big to help them with the transition post-graduation and see them through to the first job in their career. In addition to scholarships, our Job Readiness & Placement programming provides on-the-job training, skills development, and job placement assistance so that students enter the workforce prepared and passionate about building a successful career."